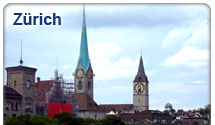 Zurich is the largest city of the Swiss Confederation by land area and population.
It is the financial centre of Switzerland and houses the stock exchange and the headquarters of a large number of national and international companies.
Because Zurich is the central node of the Swiss-wide train network and also runs the biggest and busiest international airport in the country, it generally is the first place where tourists arrive. Because of the city's close distance to tourist resorts in the Swiss Alps and its mountainous scenery, it is often referred to as the "portal to the Alps".

We offer a range of high quality services for of requests:
Ground transfers to and from all airports in Switzerland to Zurich
Ground transfers to and from any other destination in Switzerland and/or in Europe
Full disposal of car and/or private driver for sightseeing tours
Helicopter and private jet service with ground service available at your destination
Arrive in time and in style with one of our luxurious limousines and spacious vans, minibus or bus up to 70 passengers.
All our vehicles are recent models, well-tended and regularly maintained, comfortable, and equipped with the most current amenities.
The quality of our drivers assures you an efficient and safe journey to your destination.
Our drivers have a solid background in driving, an excellent knowledge of the local area, multilingual, and dedicated to delivering a high quality customer service experience.
Our team speaks several languages, is helpful in all situations, reliable, professional and discrete.
Each call is important for us and is treated with special attention from our trained coworkers.

We will take care: 24 hours a day, 365 days per year.